Buy Nebido India Online
Order Testosterone Undecanoate 1000mg/4ml
---
| | |
| --- | --- |
| Active substance | Testosterone Undecanoate |
| US Brand | Nebido |
| IN Brand | Cernos Depot |
| Made by | Sunpharma |
| Strength | 1000mg/4ml per one vial |
| Form release | 1 ampoule |
| Shipping time | 7 – 18 days |
| Order | |
---
---
DescriptionDosageSide Effects
Each mL solution for injection contains testosterone undecanoate 250 mg corresponding to testosterone 157.9 mg.
Each ampoule with 4 mL solution for injection contains testosterone undecanoate 1000 mg.
It also contains benzyl benzoate and refined castor oil as excipients.
---
We sell Testosterone Undecanoate from India, buyers can order Generic Nebido Online, directly from our company via contact form, leave request for prices, and we will touch you in shortly. We can ship medicines to your address in USA, UK, AU, Europe within 10 – 14 days, with guarantee delviery.
---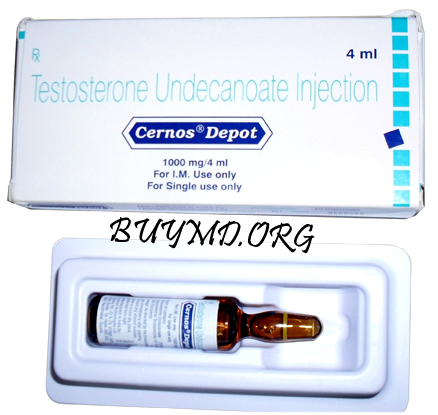 Testosterone undecanoate is an ester of the naturally occurring androgen, testosterone. The active form, testosterone, is formed by cleavage of the side chain.
Testosterone is the most important androgen of the male, mainly synthesized in the testicles, and to a small extent in the adrenal cortex.
Testosterone is responsible for the expression of masculine characteristics during fetal, early childhood, and pubertal development and thereafter for maintaining the masculine phenotype and androgen-dependent functions (eg, spermatogenesis, accessory sexual glands). It also performs functions eg, in the skin, muscles, skeleton, kidney, liver, bone marrow and CNS.
Dependent on the target organ, the spectrum of activities of testosterone is mainly androgenic (eg, prostate, seminal vesicles, epididymis) or protein-anabolic (muscle, bone, hematopoiesis, kidney, liver).
The effects of testosterone in some organs arise after peripheral conversion of testosterone to estradiol, which then binds to estrogen receptors in the target cell nucleus eg, the pituitary, fat, brain, bone, and testicular Leydig cells.
One ampoule / vial of Cernos Depot or Generic Nebido (corresponding to 1000 mg testosterone undecanoate) is injected every 10 to 14 weeks. Injections with this frequency are capable of maintaining sufficient testosterone levels and do not lead to accumulation.
Start of treatment
Serum testosterone levels should be measured before start and during initiation of treatment. Depending on serum testosterone levels and clinical symptoms, the first injection interval may be reduced to a minimum of 6 weeks as compared to the recommended range of 10 to 14 weeks for maintenance. With this loading dose, sufficient steady state testosterone levels may be achieved more rapidly.
Maintenance and individualisation of treatment
The injection interval should be within the recommended range of 10 to 14 weeks. Careful monitoring of serum testosterone levels is required during maintenance of treatment. It is advisable to measure testosterone serum levels regularly. Measurements should be performed at the end of an injection interval and clinical symptoms considered. These serum levels should be within the lower third of the normal range. Serum levels below normal range would indicate the need for a shorter injection interval. In case of high serum levels an extension of the injection interval may be considered.
For intramuscular use.
The injections must be administered very slowly (over two minutes). Nebido is strictly for intramuscular injection. Care should be taken to inject Nebido deeply into the gluteal muscle following the usual precautions for intramuscular administration. Special care must be taken to avoid intravasal injection (see section 4.4 under "Application"). The contents of an ampoule / vial are to be injected intramuscularly immediately after opening. (For the ampoule see section 6.6 for instructions on opening the ampoule safely).
The most frequently observed adverse reaction was injection site pain (10%).
The following adverse reactions were reported in clinical trials with a suspected relationship to Nebido (according to the HARTS Body System and Dictionary Term system):
Common* (>1/100, <1/10): Digestive: Diarrhea. Musculoskeletal System: Leg pain, arthralgia. Nervous System: Dizziness, increased sweating, headache. Respiratory System: Respiratory disorder. Skin and Appendages: Acne, breast pain, gynecomastia, pruritus, skin disorder. Urogenital:Testicular pain, prostate disorder. General
Disorders and Administration Site Conditions:
Subcutaneous hematoma at the injection site.
*Due to the small sample size of the studies, the frequency of each reported adverse event with a suggested causal relationship falls at least into the category common (>1/100).
In the literature, the following adverse reactions from testosterone-containing preparations have been reported:
Blood and the Lymphatic System Disorders: Rare cases of polycythemia (erythrocytosis).
Metabolism and Nutrition Disorders:
Weight gain, electrolyte changes (retention of sodium, chloride, potassium, calcium, inorganic phosphate and water) during high dose and/or prolonged treatment.
Musculoskeletal System: 
Nervous System: 
Nervousness,
Hostility,
Depression.
Sleep apnea.
Hepatobiliary Disorders: 
In very rare cases, jaundice and liver function test abnormalities.
Skin and Appendages: 
Various skin reactions may occur including acne, seborrhea and balding (alopecia).
Reproductive System and Breast Disorders: 
Libido changes, increased frequency of erections; therapy with high doses of testosterone preparations commonly reversibly interrupts or reduces spermatogenesis, thereby reducing the size of the testicles; testosterone replacement therapy of hypogonadism can, in rare cases, cause persistent, painful erections (priapism), prostate abnormalities, prostate cancer**, urinary obstruction.
General Disorders and Administration Site Conditions: 
High-dose or long-term administration of testosterone occasionally increases the occurrences of water retention and edema; hypersensitivity reactions may occur.